A Family of Unique Products
Testimonials
As delicious as it gets! Julian's Valleys Ghee has become a staple in our pantry as the whole family loves the flavor it adds to our food and deserts.

Sandra L.
Ghee was recommended to me by my dietitian as its health benefits are much better than the butters and oils that I usually use. It has been a life changer for me.

Aliyah T.
This is not your average commercial ghee. Julian's Valleys ghee is the real deal, the taste is so pure and has an amazing texture! Finally something healthy and delicious.. ;-)

Antonio J.
We have been buying this ghee for a year now and the recipe never changed, we tried two other brands but nothing comes close to the quality.

Carol S.
We are so grateful to our friend that got us  our first Julian's Valleys ghee Jar. She knew with our diet restrictions ghee was the answer. Ghee added several new dishes to our menu.

Helena S.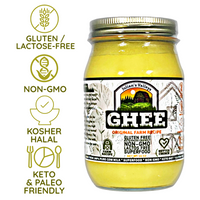 Ghee Health Benefits
Get all the health benefits of ghee with Julian's Valleys healthy and delicious ghee products. Our Original Ghee old family farm recipe has not changed for decades. Keeping all the important and healthy ingredients intact.
Make Julian's Valleys Ghee part of your daily cooking ingredient and feel the difference.
Learn More